Body posture and hand positioning
One of the more boring, but in any case very important topics is a good body posture when playing the guitar. Improper body posture quickly leads to muscle tension and pain. So let's discuss a few things about better body posture when playing.
In general there are two different ways to hold the guitar in a sitting position: the casual sitting position and the classical sitting position.
Classical sitting position
The classical sitting position is usually used when playing classical guitar.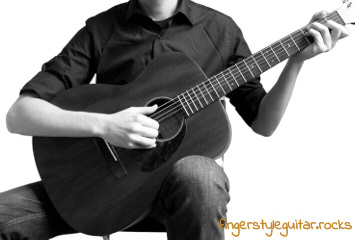 Classical guitars (sometimes called Spanish guitars) are strung with nylon strings and have a wider neck than guitars with steel strings. Although they are usually played with the fingers, this style of playing is not called fingerstyle guitar. Of course there is no law that defines how to sit when playing fingerstyle guitar. Accordingly, there are guitarists who play fingerstyle guitar while holding the guitar in a classical position, e.g. Ulli Bögershausen.
Casual sitting position
The casual sitting position is most often used when playing fingerstyle on a steel string guitar.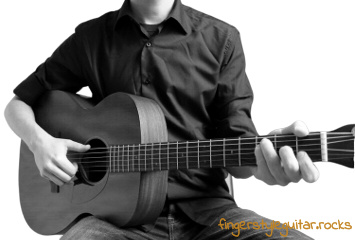 (All descriptions below are for right-handed people. Please swap left and right if you are left-handed.)
Body posture recommendations
‣ Experiment with different seat heights. If you sit too high, your guitar will slip away from you. If you sit too low, it's also not very comfortable to play.
‣ Keep your back straight and don't wrap yourself around the guitar.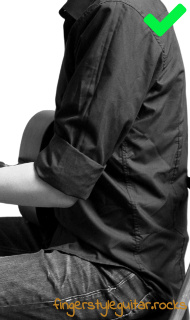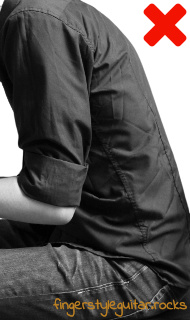 ‣ Do not raise your shoulders and keep both shoulders at the same level.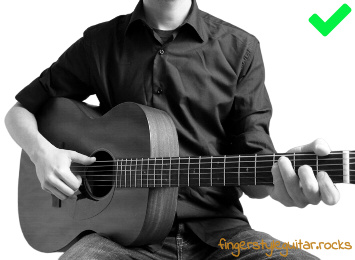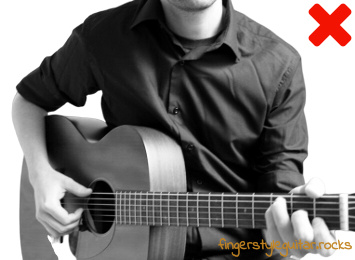 ‣ Keep the neck of your guitar approximately horizontal to the floor.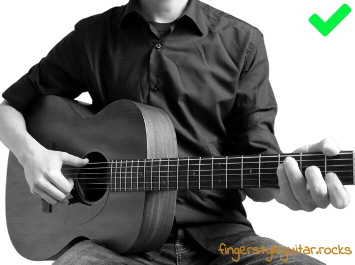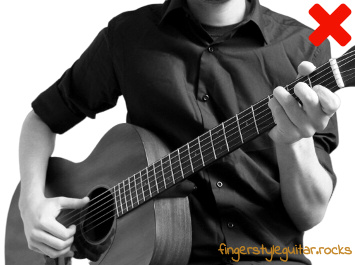 ‣ Place your right upper arm on the body of your guitar. This prevents the guitar from falling down and gives your fretting hand the freedom to move along the neck.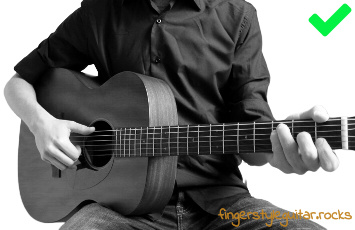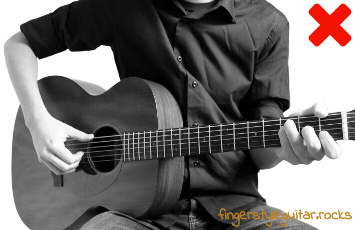 ‣ Usually you don't keep the guitar close to your body. Instead, hold the neck of the guitar about a forearm length away from your body. This ensures that your left upper arm is parallel to your body and your right arm rests more easily on the body of the guitar. Additionally this prevents you from sitting with your back twisted.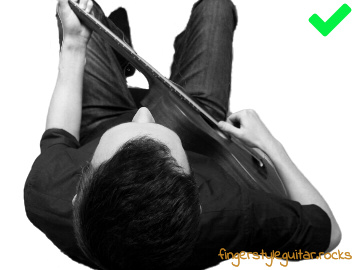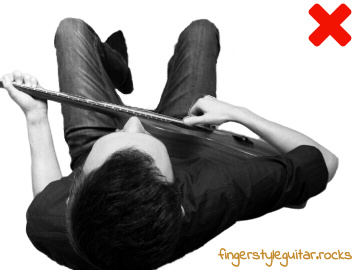 ‣ Since your left leg is not involved in the casual sitting position, you can tap your left foot on the floor to keep time.
‣ In general, your body shouldn't be overly tense when playing, as this will inevitably lead to pain.
Recommendations for the fretting hand
‣ When playing fingerstyle guitar, it is quite common to put the thumb over the neck. This is often very difficult for beginners, but I strongly recommend it as it offers many advantages (e.g. you can use your thumb to mute strings or fret bass notes). No, your fingers or thumb are not too short for this. It's really just a matter of practice.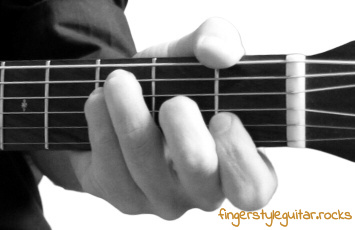 ‣ Another advantage of playing with your thumb over the neck is that your wrist is automatically in a good position. A constantly bent wrist can quickly lead to pain. But sometimes you can't help but bend your wrist, especially when playing barre chords. The good news is that you can replace some barre chords with your thumb over the neck and different fingerings, e.g. F Major.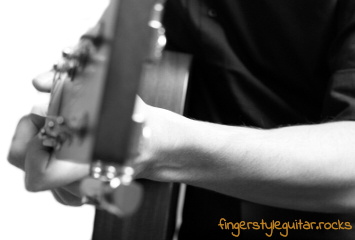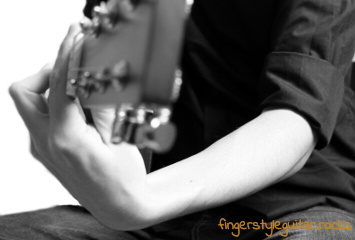 Recommendations for the picking hand
‣ Most fingerstyle guitarists anchor their pinky on the guitar. I personally do it as well and find it very helpful as it gives me more stability and precision. Other guitarists complain that this restricts their freedom of movement. Try both approaches and choose the one that suits you best.
‣ Finding a good picking hand position is also a very important topic. Developing a bad picking hand position in the beginning will inevitably come back to you at some point. In general, you should hold your picking hand as if you were showing a thumbs up. Then turn your hand 90 degrees. There you are!
Usually it takes a bit of practice to play in this position, but it offers you several advantages. The most important one is that thumb and fingers don't get in each other's way when playing. Another thing is that you automatically strike the strings with the right part of your thumb/fingers, but more on this later. And last but not least, this position makes your life much easier when you try to get into more advanced fingerstyle techniques like slapping or picking with a thumb pick and/or finger picks.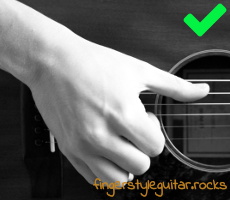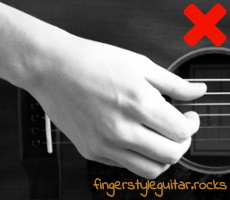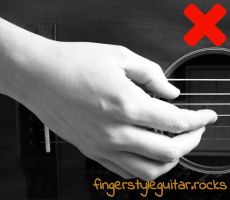 One last comment: In the end these are all just recommendations. You should do what works and is comfortable for you.
See also